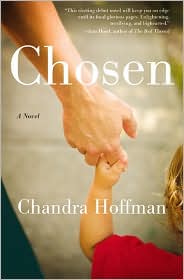 Chosen: A Novel
By Chandra Hoffman

Published August 24, 2010 (Hardcover) Harper
Seems I've been attracted lately to novels that, in some way, address babies and children.  In a word – family!  Chandra Hoffman's novel, Chosen, seduced me instantly with the topic.
There's a sweet tone to the book – Chloe's mostly – even though Hoffman also tells the story in the voices of Penny, Paul, and Jason. A pregnant woman, the husband whose wife finally gives birth, and Penny's difficult boyfriend. We also see Francie's posts on the adoption site – Francie, a woman who has not been able to have a child of her own.
Chloe is an adoption worker who handles both the desperate parents wanting a child, willing to do anything to have a child, and the frantic parents-to-be, who are not sure whether to (1) end it, (2) have it and adopt it out, and (3) have it and keep it.  The waters keep getting muddied.  A lot.  Especially when you blend in meth mothers and the violent cons who get them pregnant.  Especially when one baby goes missing.
Still, Chloe's voice spills into the other chapters, that sweetness I mentioned.  She's frustrating at times, because, in her own life, she's way too soft, lets her boyfriend choose for both of them, lets her boss suck up all her time, lets everyone have their way without letting them know what she would like.
I guess what pissed me off, is that I am working hard to move out of that energy – and it is ridiculously hard work, to not defer to others, to not just say "it's okay," when it's not, to not pretend it doesn't matter, when it does.
It does.
Chloe's background isn't spelled out in Chosen, but in my life, I learned to defer because the alternative was worse.  Violence. Rape. Not knowing when the other shoe would fall – or be thrown.
I was adopted.
I know, I haven't mentioned it – hardly – here, because I prefer to call my adoptive father my stepfather.  He adopted me when I was ten.  Five years after he changed my last name. Not a baby adoption, like in Chosen.  But an adoption, nonetheless.
In the middle of a wintery day, my stepfather came to pick me up at my fifth grade class.  I wore a green smocked dress, my pixie-cut hair in its usual disarray.  I hated that haircut.  I wanted the long, straight hair all my friends had.  I pulled on my woolen coat, bid goodbye to my teacher, and just he and I drove off to Elizabeth, New Jersey where the courthouse was.  On the way, he told me about this woman, man, and their baby in a car in a parking lot. The woman, he said, with a lascivious energy pouring over me, sickening me at my base, was found asleep, with her dress up.  She wasn't wearing anything underneath.  All I could feel was that sickening, sexual feeling, reminding me that he possessed me any time he wanted, and now he would own me.
The lawyer – who was missing eyebrows and hair – told me that the judge would ask me if my stepfather was a good man, if I would want him as a father.  Inside, as I quietly, politely listened on the outside, I screamed "no!" Then, I thought, "If I tell the truth, my mother will end up with a second divorce, and she wouldn't be able to hide this divorce like she hid the first one." And, I thought, "If I tell the truth, she might try to kill herself again.  I can't tell the truth."
And, I didn't.
I didn't tell.
I just hope all adoption workers have as big hearts as Chloe – and as Chandra Hoffman.  And, that they can say no when they mean no.